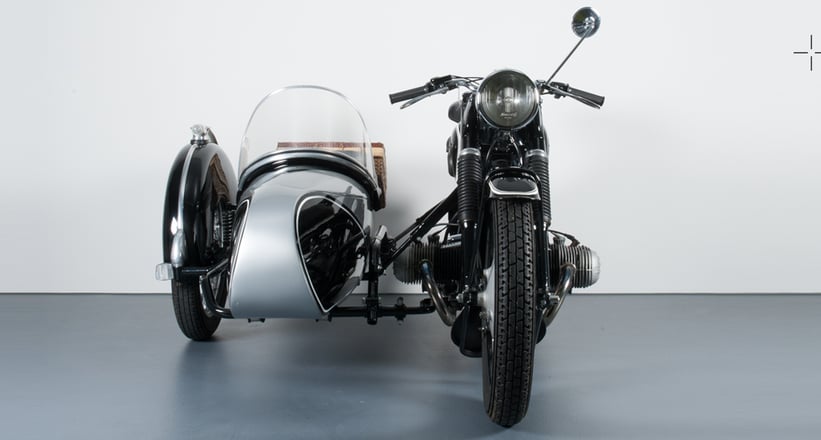 An important step forward in the development of BMW's long-running flat-twin occurred in 1936 with the introduction of the 494cc R5. Prior to that the BMW engine had been recognisably related to the first of its type, the 1923 R32, and like those of its (500cc) predecessors, the R5's engine dimensions were 'square' at 68x68mm bore/stroke. However, the overhead-valve R5 engine broke new ground by adopting two chain-driven camshafts, a move that permitted shorter pushrods and higher revs. In 1938 the model was up-dated as the R51, gaining a telescopic front fork and plunger rear suspension, and continued in production until 1940.
BMW recommenced production in December 1948 with the R24 single, but it would be another 12 months before a twin-cylinder model became available again. This was the R51/2 based, as its designation suggests, on the pre-war R51. Improvements incorporated into the R51/2 included a two-way damped front fork, gearbox main-shaft damper and strengthened frame. In truth, the R51/2 was only a stopgap model to get production under way while BMW worked on something more modern. Its replacement, the R51/3 – arrived in February 1951, and despite the similarity in designation had an entirely new and much neater looking engine incorporating a single gear-driven camshaft and crankshaft-mounted generator among a host of other advances. There was also a 600cc R67 version, intended primarily for sidecar duty, which was swiftly superseded by the more powerful R67/2 for 1952.
An older restoration, this R67/2 motorcycle combination was acquired for the collection in 1987 and last taxed for the road in 1997. An expired MoT on file (issued February '87) records the mileage then as 53,795 while the current odometer reading is 53,799 miles. The machine is offered with old/current V5/V5C registration documents, the latter stating that it has had two former keepers.